Immerse yourself in the sacred vibration of the Golden Temple as you experience profound healing and transformation.
Is this Program for You?
Is there an activity that you crave and repeatedly do in your life that has negative consequences? Is this behaviour impacting your family and/or relationships? Have you tried to stop, without success?
Addiction is any pattern of behaviour that you crave, and find some temporary relief or pleasure in, but are unable to give up despite the negative long term consequences of engaging in that behaviour. Most of us have at least one addiction, whether it be sugar, internet use, compulsive cell phone use, or a more harmful physical substance or behaviour, such as alcohol, opiates or gambling.
Are you concerned about a family member in India or abroad who is addicted and are wondering how you can help?
Refer your loved one directly to this program if they are at least 40 days free of substance use or currently in a de-addiction program, and are motivated to heal.
Consider attending this program yourself. This will allow you to experience the transformational power of the program, make positive lifestyle shifts, and inspire your loved ones.
This course will be taught in English, with Punjabi translation. English and/or Punjabi speakers are welcome to attend.
Why Punjab?
This unique program is dedicated to helping Punjabi people globally, and their loved ones, recover from addiction.
Our expert Beyond Addiction team of trainers from Canada and the US is passionate about bringing this innovative recovery program to Punjabi people internationally and training local professionals to continue to offer the program in Punjab.
Of the approximately 30 million people in Punjab, about 3.2 million are addicted and dependent on substances such as alcohol, tobacco, opioids, cannabis, stimulants and sedatives, with the most prevalent being opioids.
Why is drug use in Punjab 3 times higher than the national average?
There are several reasons, one being that Punjab is an entry point for drugs into India, therefore they are easily available. Secondly, historically the Punjabi people have been negatively impacted by partition, oppression, colonialism, loss of cultural identity,  intergenerational trauma and suppressed emotional pain. This contributes to a loss of connection to oneself, one's faith, one's vitality and sense of purpose.
Dr. Gabor Maté, an international addiction expert says, "The question is not, 'Why the addiction?,' but 'Why the Pain?'" Addiction is not the primary problem. Addiction is an attempt to solve the problem, which is unexpressed emotional pain, often linked to childhood and intergenerational trauma that was present long before the addiction.
Dr. Maté states: "The chronic condition of severe substance addiction is caused, in most cases, by the distorting effects of early childhood abuse or stress on the developing brain, often in the context of multigenerational trauma and social dislocation."
Addiction springs from a desire to avoid or relieve pain, suffering, and uncomfortable feelings, and to experience pleasure and comfort. When we are addicted, we surrender a piece of our autonomy to a substance or behaviour that may provide short-term relief but then has power over our feelings, thoughts and actions, with negative consequences to ourselves, our relationships and society.
Addiction can be healed by reconnecting to one's essential spiritual nature, nurturing a healthy lifestyle, practicing yoga and meditation, finding one's place in a safe supportive community, connecting to loved ones with authenticity, cultivating one's strengths, and focussing on what gives us joy and a sense of purpose.
Together, We Can Help.
We welcome individuals in recovery from addiction into the program, as well as Punjabi health professionals – addiction counsellors, therapists, social workers, psychiatrists, medical doctors, Ayurvedic practitioners, students, yoga teachers, family members and anyone else who is seeking positive changes personally and/or who would like to help others transform unhealthy habits and replace them with positive lifestyle changes.
Our vision is to support and train local teams to continue to offer and spread this much needed program in areas of Punjab and India.
What You Will Receive
Catered breakfast, lunch, and dinner is provided, based primarily on a traditional Indian vegetarian diet. We will enjoy meals together, and gather daily to practice yoga, meditation and engage in discussion. Early morning visits to the Golden Temple, as well as sadhana, are optional. We also will enjoy relaxing evenings around the pool or walking tours and shopping in Amritsar.
Included in the course fee is a 4-month home practice program with online yoga videos and webinars taught by Sat Dharam Kaur ND and teaching clips from Dr. Gabor Maté, and a weekly facilitated discussion with your small group leader.
You will learn to:
Use Kundalini Yoga and meditation to rejuvenate body, mind and spirit
Utilize yogic techniques to decrease cravings
Restore the nervous system, brain, frontal lobe and adrenal glands with yoga and naturopathic therapies
Access your spiritual centre and learn to rely on your Higher Self
Develop neutrality and clear subconscious patterns
Manage your reactions to people and events
Enhance communication and relationship skills
Make a healthy shift in perspective and attitude
Read Testimonials from course participants.
Review our detailed Course Outline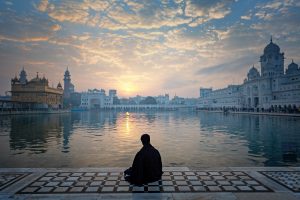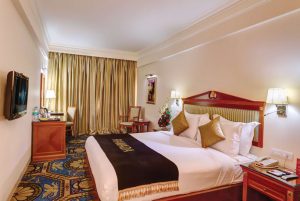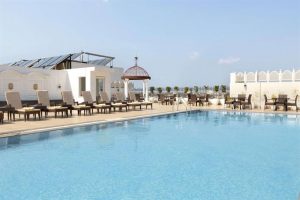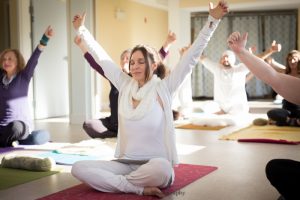 Location & Dates
Location: Ramada Hotel, Amritsar, India. 117/1 Hall Bazaar, Inside Hall Gate, Amritsar, 143006. It is a 14 minute walk to the Golden Temple (Harimandir Sahib).
Dates: Nov 13-21, 2021
Times: 8:45 a.m. – 6:00 p.m. daily
Map: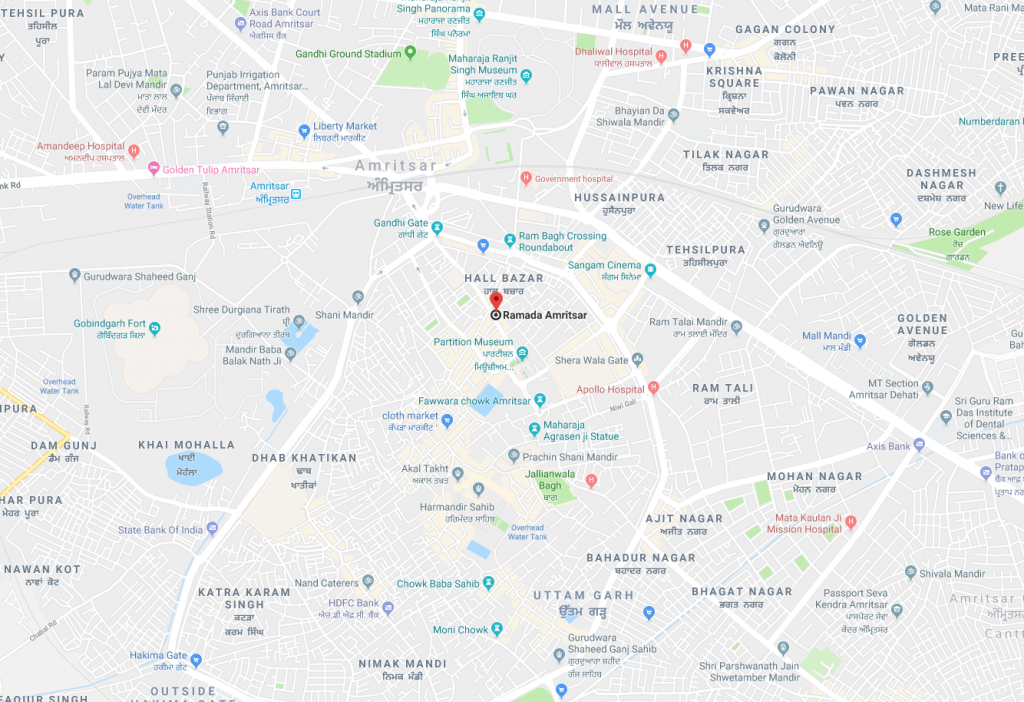 Fees & Registration
Course Fee:
Early Bird Fee by Feb 1, 2021:  $1500 CAD dollars Course Fee (includes manual, immersion course fee, 16-week online program with facilitated weekly integration check-ins). Does not include accommodation and food – see below.
Regular Fee by Aug 15, 2021:  $1700 CAD dollars Course Fee (includes manual, immersion course fee, 16-week online program with facilitated weekly integration check-ins). Does not include accommodation and food – see below. 
Register Online:
In order to register for this course, you must first read the Criteria for Acceptance into Beyond Addiction Program. Space is limited, register early.
Click the register button below to fill out the registration form
Pay the course fee by one of the methods outlined below.
Register Online
Pay Course Fee ($1500 CAD dollars before Feb 1, 2021):
Registration information:
Email: Please fill out the completed registration form and use the paypal button above or send an etransfer (for Canadians) to [email protected].
Phone: Please fill out the completed registration form and then call us at (519) 372-9212 with your credit card information.
Fax: Please complete the registration form and Fax your credit card information to (519) 372-2755.
Mail: Please complete and print the registration form and send it along with your credit card information, cheque, or money order (made out to Sat Dharam Kaur) to: Sat Dharam Kaur, 235 9th St E, Owen Sound, ON, Canada N4K 1N8.
Payment may be made by cheque, money order, VISA, MasterCard, or eTransfer.
Please contact Sat Dharam Kaur at 519 372-9212 or [email protected] if you have further questions.
Fee for Accommodation and Food (pay separately from Course Fee):
3 vegetarian meals and snacks/day, + 10 nights accommodations at the Ramada Hotel Amritsar, organized through Axis Travel in Amritsar.
| | |
| --- | --- |
| Arrival: | Friday, Nov 12, 2021 |
| Departure: | Sunday, Nov 21, 2021 |
| Length of stay: | 10 nights. |
Standard Room for 10 nights, plus meals, double occupancy:  $775 CAD (this rate is in Canadian dollars per person, with two people per room)
The 19 square meter Standard Room comes with a queen size bed and a study table. It overlooks the old walled city. The Standard Room includes a 32-inch flat screen with full HD television. Its bathroom has both a hand and rain shower.
Standard Room for 10 nights, plus meals, single occupancy: $1340 CAD for single occupancy room for 10 nights including breakfast, lunch and dinner.
Deluxe Room for 10 nights, plus meals:  $825 CAD (this rate is in Canadian dollars per person, with two people per room – please specify a king size bed or 2 singles)
The 30 square meter Deluxe Room comes with an option of a king size bed or 2 separate single beds. It overlooks the old walled city with a coffee table and study. Each Deluxe Room includes a 32-inch flat screen with full HD television. Its bathroom has both a hand and rain shower.
These fees are based on a rate of exchange of 1 Canadian Dollar = 51.75 rupees. Price will change slightly with the exchange rate.
What is Included in the above fees?
Daily Buffet Breakfast, Lunch and Dinner
Morning and evening tea with snack.
Ramada Hotel Room Facilities
High speed internet
Hairdryer
Iron & ironing board on request
24-hour room service
Tea/Coffee maker
Multiple Channel full HD television
Direct temperature control
Mini bar on request
Blackout curtain
Two bottles of complementary packaged drinking water
Daily Newspaper
Large Writing/ study table
Laundry Service
Spacious wardrobe with digital safe
Fee for Food Only (for those who have other accommodations)
Lunch: $17 CAD per person
Dinner: $18 CAD per person
To book accommodation at the Ramada Hotel (including meals), or to book meals separately, please contact Nidhika by telephone at 9779079792 or 9815079792 or email

[email protected]
Cancellation Policy:
Once the program has begun, there are no refunds. If you withdraw two weeks before the course begins (Nov 12, 2021), a $500 cancellation fee will be charged and the rest of your payment will be refunded. No refunds after Oct 29, 2021.
Evaluation for Suitability:
After registering, each participant will be evaluated on his or her own readiness for the program, based on his/her intake form and an interview with the Lead Mental Health Practitioner of the designated program.
The Lead Trainer and the Lead Mental Health Practitioner will determine the fitness of each candidate for the program. Acceptance of the registration fee does not confirm attendance in the program. If the applicant is not suitable at this time, the registration fee will be fully refunded and every attempt will be made to assist the applicant in finding a suitable alternative program or support.