Amritsar Retreat FAQ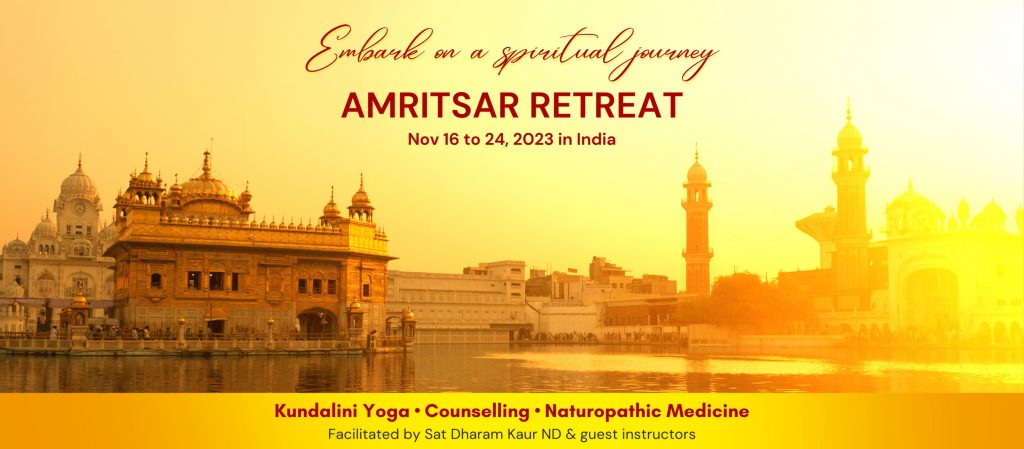 Important Information to Note
Things to carry for your self:
Yoga mat, pillows and asanas (Asanas are optional). The venue isn't able to arrange for them
A notebook and pen / pencil
Water bottle
General list of things you may need:
Walking shoes, slippers, flip flops, rain coat just in case.
It will be cooler in general as India is going into winter, mornings and evenings, around 10 degrees centigrade so choose your clothing accordingly.
Head coverings for temple visits.
Carry sunglasses, sun screen, and a cap.
You can wear any colour clothes you want but typically most wear light / white colours.
Indian Rupees currency, you could carry Rs. 5000 for any expenses until you arrive at the hotel. Then you can easily convert the rest later.
A dual sim card phone, if you want a local sim while you are here. Or get international roaming activated on your phone.
Plug and voltage converter for your electronics. You can also get them in India if you want.
You will be provided with:
Filtered water so you can keep refilling your water bottle (to avoid using plastic).
The manual will be given to each of you.
Other important notes:
Get in touch with the travel agent for coordinating with the hotel pick up and drop. The airport shuttle isn't free and has a charge.
Travel light as you may want to shop and carrying back a lot more.
Pls carry N95 masks. There is an unexpected increase in pollution at the moment in Delhi. It should be normal by the time of the retreat but just as a precaution do carry some masks.
Wear comfortable clothes in which you can sit for long and do yoga.
FAQ's
Q. Do you have recommendations for booking my flight?
There are many options for finding a flight. It all depends on where you're flying out from. You should fly to Delhi. One way to select a flight is to see the number of stopovers each way (it is recommended not more than 1) and the stop should be a minimum of 2 hours to make sure you do get your connection. Avoid flights with stopovers of over 4 to 5 hours, it can be very tiring.
Q. Do I need a Passport ?
Yes. Your passport must be valid for the dates of your trip. If you do not have a passport please allow adequate time to get one.  You will not be allowed to board a plane leaving the country without a passport.
Q. Do I need a Visa to travel to India?
Yes, you will need a

tourist visa

to travel to India. Visa proceedings take time, so we suggest that you apply for it as soon as it is possible. We suggest a 6 month or the maximum given for your country; whichever makes more sense for your future travel needs. For information on applying for a Visa, do online and search for an Indian Embassy near you. Note: You will not be allowed to board a plane bound for India without a valid Indian visa (Paper / E Visa).

The information needed for where you are staying for your Visa Application is:
Location:

Ramada Hotel, Amritsar, India. 117/1 Hall Bazaar, Inside Hall Gate, Amritsar, 143006.

Dates:

November 16 – 24, 2023
Important: Make sure you check off TOURIST for your Purpose of Visit. Do not check off anything but TOURIST. Your Visa may be held up otherwise.**India now allows you to apply for your Visa online. This may not be applicable for all countries.]

If you wish to do this you can apply: https://indianvisaonline.gov.in/visa/index.html
You may also choose an "on arrival visa" that you apply for online and pick up at the airport in Delhi on arrival. This option is easy and cheaper and only good for 30 days. Be aware that it can take time at the airport depending on how busy it is.
Q. Where will the training be held?
Q. Where should I fly into and when should I arrive?
We suggest that you fly to Delhi as that is the closest airport to Amritsar. You should arrive at the venue on November 16, 2023. Note that international flights typically land late night / early morning here in India.
Q. When do we leave the hotel?
The accommodation is booked from Nov 15th (check-in) to Nov 25th (check-out). Any extra days added to this, will be provided at the per day rate given to us. For travel and hotel related points do get in touch with the dedicated travel agent.
Q. How do I get from Delhi to Amritsar and back?
Ideally if you arrive by 14th Nov late night or 15th Nov early morning it would allow you to take the morning flight from Delhi to Amritsar. You can also go by road if you prefer.

The segment from Delhi airport to the retreat venue in Amritsar can be handled by the travel agent: Ms. Dishka Arora at +91-9779079792 or email

[email protected]

.
Q. Where can I stay if I arrive in Amritsar earlier than November 15?
There are alternate hotel options near The Ramada Hotel.
Hotel Amritsar Grand by Levelup hotels and resorts
Treebo Trend Royal Shelton
Bookings are not made here as they are subject to availability. You can contact: Ms. Dishka Arora at +91-9779079792 or email [email protected] for further information.
Any extra days added to the booking from Nov 15th (check-in) to Nov 25th (check-out), will be provided at the per day rate given to us. For travel and hotel related points do get in touch with our dedicated travel agent.
Q. Any suggestions for a healthy flight?
Since the flight is so long we do recommend drinking plenty of water, at least 8 ounces per hour. Drinking caffeinated beverages is not recommended. If you want a special meal remember to order in advance with your airline. Vitamin C or Vitamin packets are helpful in fortifying your immune system during the flight. Snacks of fruits and nuts will help too. When not sleeping or watching movies, take regular breaks to get up, walk around and stretch.
Q. What should I pack?
We suggest you bring one large suitcase or duffle as checked luggage and one small bag or knapsack as your carry on. If you would like, bring an empty duffle packed into your suitcase to bring home your purchases. Don't overpack! Remember, airlines are imposing stricter guidelines for luggage and weight. Also, there are times you will have to carry your own luggage, so make sure the luggage you bring is luggage you can handle carrying.
Q. What are the Covid-19 travel regulations?
Q. What about supplements and medicines?
Whatever prescription medications you are required to take at home, please continue to take them while in India. Please carry your prescription along with you at all times.
Q. What is the currency and how can I exchange my dollars?
The currency in India is the Rupee (INR). There is a money exchange in the Delhi airport. When you fly into Delhi, exchange some money into rupees at the airport. The rupee is not exchangeable outside of India so however much money you exchange into rupees, know that you must either spend it or exchange it back before leaving the country.

You can even exchange your currency at the Hotel.
Q. How should I dress when traveling through India?
Both men and women travelers should have pants and avoid tank tops as clothes to wear in India. In India, attire for women includes long skirts, Kurtas, Salwars, Loose Pants. Pack plenty of long-sleeved shirts as it will be cold during November in Amritsar. You'll also be protecting yourself from the sun and mosquitoes.

Pack light as Laundry and clothes are cheap and you have space for buying colorful and traditional phulkari clothing, patialas etc.
Q. How much money should I take with me?
That's entirely up to you and how much you want to buy. Things in India are much more inexpensive than they are in the US or Europe, so your dollar goes pretty far. Travellers checks are harder to exchange in India than cash, so we recommend bringing cash and credit/debit cards. ATMs are available throughout.
Q. What is connectivity in terms of internet data and telecommunication?
As Amritsar is a city, there are no Internet data or network issues. The hotel rooms come with wifi connection. With regards to the phone connection, you can buy a sim card which is under 50 CAD on your arrival. Convert to your currency here.
Q. Is there any way to connect with my fellow trainees prior to the course?
Yes we are going to create a WhatsApp group as well as share a document with all the fellow participants travel details, so you can group and coordinate your traveling together.
Q. Who do I contact if I have additional questions?
Q. Do I need vaccinations?
Contact your nearest Embassy. They will be well equipped to answer these.
Additionally:
If you have any specific dietary requirements, kindly let us know in advance and we will try to accommodate and satisfy your needs as much as possible.
If you have any other specific requirements you can reach out to Michelle Peddle at [email protected] or Anirudh Goel at [email protected] anytime.