Learn About Beyond Addiction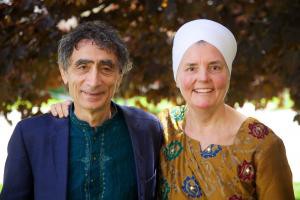 The Beyond Addiction program has been supporting individuals in overcoming addictive behaviours since 2008. It is an internationally recognized treatment for anyone who wants to establish healthy thought patterns and habits to nourish mind, body and spirit and manifest an inspired and fulfilling life. The program builds healthy, resilient individuals, families and communities.
The course comprises a 16 session recovery program which includes Kundalini Yoga, breathing techniques, meditation, relaxation, self-reflection, lifestyle and dietary guidelines, group support, stress management, hydrotherapy, naturopathic detoxification and nutritional and herbal supplementation for neurotransmitter and glandular balance.
The program was developed by Sat Dharam Kaur ND, and integrates the teachings of Dr. Gabor Maté and experts in the addiction field. Click here for more information.
The Canadian Addiction Counsellors Certification Federation has approved Beyond Addiction: The Yogic Path to Recovery for 42 core CEUs.
Testimonials
Watch the combined video testimonials of our past participants:
The BA program is amazing – packed full of knowledge, techniques, wisdom and powerful kundalini yoga that supports the healing of the whole self, psychologically, physically and spiritually, along with self-discovery, nutrition, yoga, community and the wisdom of Sat Dharam Kaur and Gabor Maté.  Give yourself this gift.
Beyond Addiction has changed my life.  I came in without much hope and I feel now, for the first time in a very long time that life is full of possibility and that I have the confidence to face the challenges it offers me head on.  I don't want it to ever end.
You will never regret this course. Do it! And take it with as much compassion, consciousness and support as you can.
The Beyond Addiction course offers a unique experience to learn about your self and why you do what you do.  It helps answer the great "why can't I just stop?"  It gives you hope and the opportunity to learn what will change your life.
Recent Posts
The Human Experience – 40 Days Practice

-

I am a spiritual being having a human experience In times like these, when the human experience is getting real and downright scary, having a spiritual practice feels essential to me. I have recently committed to a 40-days practice of … Continued
Choosing MySelf – A Journey to Know My Needs

-

I never knew what it meant to choose mySelf. Since childhood, I was so used to pleasing everybody, that I would never think consciously about my own desires and needs. "Consciously" – is an important word. Of course I … Continued
Going Inward-Scanning our Bodies for Sensations

-

What are body sensations?  Are they useful? I am not taking about our five senses, which connect us to the outside world. I am talking about those body sensations that happen within us.  Being hungry is one of them. We … Continued
Click here to see all blog posts.