The Beyond Addiction course offers a unique experience to learn about your self and why you do what you do.  It helps answer the great "why can't I just stop?"  It gives you hope and the opportunity to learn what will change your life.
Beyond Addiction has changed my life.  I came in without much hope and I feel now, for the first time in a very long time that life is full of possibility and that I have the confidence to face the challenges it offers me head on.  I don't want it to ever end.
You will never regret this course. Do it! And take it with as much compassion, consciousness and support as you can.
The BA program is amazing – packed full of knowledge, techniques, wisdom and powerful kundalini yoga that supports the healing of the whole self, psychologically, physically and spiritually, along with self-discovery, nutrition, yoga, community and the wisdom of Sat Dharam Kaur and Gabor Maté.  Give yourself this gift.
About Beyond Addiction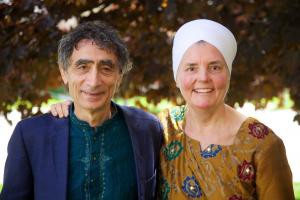 The Beyond Addiction program is an internationally recognized treatment for addiction that helps to build healthy, resilient individuals, families and communities. The program supports individuals in establishing healthy thought patterns and behaviours to nourish mind, body and spirit and manifest an inspired and fulfilling life.
The course comprises a 16 session recovery program which includes Kundalini Yoga, breathing techniques, meditation, relaxation, self-reflection, lifestyle and dietary guidelines, stress management, hydrotherapy, naturopathic detoxification and nutritional and herbal supplementation for neurotransmitter and glandular balance.
The program was developed by Sat Dharam Kaur ND and Jivan Joti Kaur PhD, and integrates the teachings of Yogi Bhajan, Dr. Gabor Maté and experts in the addiction field. Click here for more information.
The Canadian Addiction Counsellors Certification Federation has approved Beyond Addiction: The Yogic Path to Recovery for 42 core CEUs.
Upcoming Programs
Recent Posts
Reflections from a Beyond Addiction Support Group

-

For several months now, after completing the first round of the four month Beyond Addiction program, a group of committed students have continued studying Beyond Addiction, meeting on a weekly basis. We have dug into the process of self-discovery and … Continued
Beyond Addiction Gathers a Research Team!

-

We have some exciting Beyond Addiction research opportunities on the horizon and wanted to tell you about the current research that is underway. York University's Faculty of Graduate Studies and Knowledge Mobilization Unit have teamed up with KY-WHA and the … Continued
The Regeneration Project: Connect with Your True Essence and the Earth

-

By reconnecting we can begin to work on regenerating ourselves, our relationships and the environment in an integrated sustainable way. The Regeneration Project aims to do this by integrating the Beyond Addiction program with organic, permaculture based and/or Biodynamic farming, … Continued
Click here to see all blog posts.