You will never regret this course. Do it! And take it with as much compassion, consciousness and support as you can.
The Beyond Addiction course offers a unique experience to learn about your self and why you do what you do.  It helps answer the great "why can't I just stop?"  It gives you hope and the opportunity to learn what will change your life.
The BA program is amazing – packed full of knowledge, techniques, wisdom and powerful kundalini yoga that supports the healing of the whole self, psychologically, physically and spiritually, along with self-discovery, nutrition, yoga, community and the wisdom of Sat Dharam Kaur and Gabor Maté.  Give yourself this gift.
Beyond Addiction has changed my life.  I came in without much hope and I feel now, for the first time in a very long time that life is full of possibility and that I have the confidence to face the challenges it offers me head on.  I don't want it to ever end.
About Beyond Addiction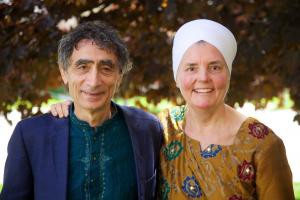 The Beyond Addiction program is an internationally recognized treatment for addiction that helps to build healthy, resilient individuals, families and communities. The program supports individuals in establishing healthy thought patterns and behaviours to nourish mind, body and spirit and manifest an inspired and fulfilling life.
The course comprises a 16 session recovery program which includes Kundalini Yoga, breathing techniques, meditation, relaxation, self-reflection, lifestyle and dietary guidelines, stress management, hydrotherapy, naturopathic detoxification and nutritional and herbal supplementation for neurotransmitter and glandular balance.
The program was developed by Sat Dharam Kaur ND and Jivan Joti Kaur PhD, and integrates the teachings of Yogi Bhajan, Dr. Gabor Maté and experts in the addiction field. Click here for more information.
Upcoming Programs
Recent Posts
What is Addiction and How Do We Stop?

-

What is Addiction? Perhaps, like me, you've indulged in some unhealthy habits over the holidays that were or still are difficult to stop. Does this mean you are addicted? My nemesis was the shortbread cookies. Thankfully they are all gone. … Continued
Goodbye, Addiction

-

When we have a dependency on an addictive substance or habit, we often romanticise this relationship. We confer power and affection to the substance or behaviour. We make up excuses why it is good for us, why we should … Continued
Teaching the Beyond Addiction Program at the Vitanova Foundation in Woodbridge

-

I love Monday mornings … I hear excited and happy greetings from clients at the Vitanova Foundation addiction recovery facility where I teach yoga, while I am still in the driveway getting out of my car. Their smiles, excitement, and … Continued
Click here to see all blog posts.