The BA program is amazing – packed full of knowledge, techniques, wisdom and powerful kundalini yoga that supports the healing of the whole self, psychologically, physically and spiritually, along with self-discovery, nutrition, yoga, community and the wisdom of Sat Dharam Kaur and Gabor Maté.  Give yourself this gift.
Beyond Addiction has changed my life.  I came in without much hope and I feel now, for the first time in a very long time that life is full of possibility and that I have the confidence to face the challenges it offers me head on.  I don't want it to ever end.
The Beyond Addiction course offers a unique experience to learn about your self and why you do what you do.  It helps answer the great "why can't I just stop?"  It gives you hope and the opportunity to learn what will change your life.
You will never regret this course. Do it! And take it with as much compassion, consciousness and support as you can.
About Beyond Addiction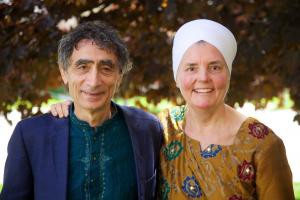 The Beyond Addiction program has been helping people since 2008 and is an internationally recognized treatment for anyone with addictive behaviours that helps to build healthy, resilient individuals, families and communities. The program supports individuals in establishing healthy thought patterns and behaviours to nourish mind, body and spirit and manifest an inspired and fulfilling life.
The course comprises a 16 session recovery program which includes Kundalini Yoga, breathing techniques, meditation, relaxation, self-reflection, lifestyle and dietary guidelines, stress management, hydrotherapy, naturopathic detoxification and nutritional and herbal supplementation for neurotransmitter and glandular balance.
The program was developed by Sat Dharam Kaur ND and Jivan Joti Kaur PhD, and integrates the teachings of Yogi Bhajan, Dr. Gabor Maté and experts in the addiction field. Click here for more information.
The Canadian Addiction Counsellors Certification Federation has approved Beyond Addiction: The Yogic Path to Recovery for 42 core CEUs.
About Compassionate Inquiry
Compassionate Inquiry is a psychotherapeutic method developed by Dr. Gabor Maté that reveals what lies beneath the appearance we present to the world.
Using Compassionate Inquiry, the therapist unveils the level of consciousness, mental climate, hidden assumptions, implicit memories and body states that form the real message that words both express and conceal.
Through Compassionate Inquiry, the client can recognize the unconscious dynamics that run their lives and how to liberate themselves from them.
Dr. Maté will model the process of Compassionate Inquiry with course participants and instruct therapists in the practice of this powerful technique to help clients access deep healing and transformation. This will be both an experiential, participatory workshop where participants will be guided through their own personal process, as well as a training to teach the method of Compassionate Inquiry to health professionals, therapists and social workers.
Upcoming Programs
Recent Posts
Who Are You and Who Am I?

-

I love to travel, partly because I discover new facets of myself when I encounter different environments and communities. In Ecuador I feel part of a loving family, in Chile I laugh more, in China I experience an ancient familiarity … Continued
How Am I Blocking Joy?

-

We block ourselves from experiencing joy when we suppress other emotions, such as anger, fear and sadness. In this short conversation which took place during a Beyond Addiction program, Dr. Gabor Maté invites us to create space to experience our … Continued
How Are You Going to Show Up?

-

I am not going to live to see the day that the system is going to change fundamentally. I am not. The reason that I am not going to live to see that day is because a certain social system will … Continued
Click here to see all blog posts.