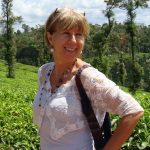 Dharm Kaur (Ela Bielski) has been practicing Kundalini yoga since 1991. She was fortunate to meet Yogi Bhajan in 1997 while taking the Master's Touch Teacher Training. Studying at the feet of the Master transformed her life. She is a KRI certified Level 2 Kundalini Yoga teacher and her teaching style is that of a Bhakti yogi – compassionately guiding students to connect with their Essence, their Highest Self
Her calling is to provide sacred Kundalini yoga teachings to those who need them the most. She used to offer by-donation classes to the community at Howard Park United Church in Toronto and now teaches as a volunteer to women breaking free of addiction at the Jean Tweed Centre, as well as to homeless youth at Covenant House.
As she witnesses the positive impact kundalini yoga and the Beyond Addiction program have on her students, her heart opens and she feels enriched and fulfilled.
Contact: [email protected]