If you are unable to attend a Beyond Addiction program where you live, we have designed an online program for you.
The next group online program facilitated by Sat Dharam Kaur ND begins Tuesday, Jan 12, 2016 and continues for 16 weeks.
It is also possible for you to proceed through the online program at your own pace, without group facilitation.
The online program consists of 16 theme-based modules. The expectation is that you will take 7 days to progress through each module, thus gaining an overview of the program in 16 weeks. If you wish to do the program without weekly group facilitation, you can set your own schedule.
You will have access to the online course materials for 8 months after the start date, allowing you to use the materials for two 16 week periods. After this time the cost is $75 for each 4 month period to access the online resources.
Many people take the program several times – it can become a lifelong journey of self-discovery and self-refinement.
In each module there are:
written materials to read and absorb – the manual totals 575 pages
yogic guidelines based on Yogi Bhajan's teachings
Dr. Gabor Maté video clips; approximately 90 of them in the full program
a videotaped pranayam (breathing exercise), kriya (yoga set), and meditation which create a specific therapeutic effect to practice for each module, taught by Sat Dharam Kaur ND
a detoxification and rejuvenation guide for the colon, kidneys, liver, lymph, glandular system and to balance brain neurotransmitters
a weekly or 40 day home practice program
an online virtual twice weekly support group
self-assessment forms and research questions to complete
access to an optional (for an extra fee) weekly or monthly Beyond Addiction Coach, naturopathic doctor, psychotherapist, addictions counsellor, or certified Kundalini Yoga teacher for additional support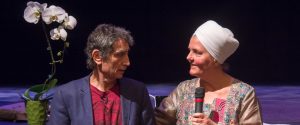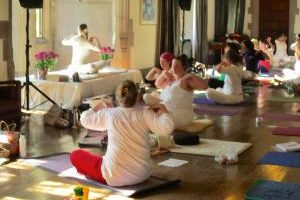 Schedule and Additional Information
We will meet together virtually on Tuesday and Friday mornings, using teleconferencing via Skype. You'll need a high speed internet connection and headphones for Skype.
Tuesdays you will be asked to practice Kundalini Yoga with an online video from 6:30-8:00 a.m. EDT, followed by an online webinar from 8:15-9:15 a.m. with personal interaction. You will need to update Flash on your computer.
Fridays we will meet online via Skype for a group discussion from 8:00-9:00 a.m. EDT.
Lectures are recorded for later listening although discussions are not. We strongly encourage you to attend each session.
You will receive a pdf for each of the 16 weeks with the lecture material pertinent to that week's module, and will be able to interact through "moodle", an online classroom.
Instructors
Founder, Lead Trainer, Naturopathic Doctor
Sat Dharam is a certified Kundalini Yoga teacher trainer and instructor, author, and naturopathic doctor practicing in Owen Sound, Ontario. She has studied Kundalini Yoga since 1976 and has facilitated teacher training programs in Toronto (ON), Canmore (AB), and Owen Sound. She developed the Beyond Addiction program, inspired by the teachings of Dr. Gabor Maté an other addiction and trauma experts. She has also developed … Continued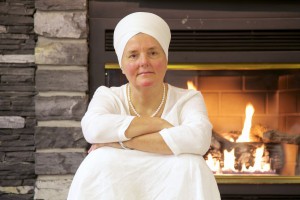 Fees & Registration
Full Course (16 Modules) for first participants: $1300
Returning participants: $650
Register Online:
In order to register online for this course, you must:
Click the register button below to fill out the registration form
Go back to this page and click the Pay Online button to pay through Paypal
Register Online
First-time Participants ($1300):
Returning Participants ($650):
Other Registration Methods:
If you would like to use another method to register for this course, we have provided two registration form options to download below. There is a Fillable registration form that you can fill out on your computer and send to us, and a registration form that you can print, fill out and send back to us.
Download: Beyond Addiction Registration Form – Fillable
Email: Please fill out the completed registration form and use the paypal button or send an etransfer to [email protected].
Phone: Please fill out the completed registration form and then call us at (519) 372-9212 with your credit card information.
Fax: Please complete the registration form and Fax your credit card information to (519) 372-2755.
Mail: Please complete and print the registration form and send it along with your credit card information, cheque, or money order (made out to Sat Dharam Kaur) to: Sat Dharam Kaur, 235 9th St E, Owen Sound, ON, Canada N4K 1N8.
Payment may be made by cheque, money order, VISA, MasterCard, or eTransfer.
Please call or email Sat Dharam Kaur [email protected] if you have further questions or concerns.
Cancellation Policy: There are a certain number of spots available for each online program. Once the program has begun, there are no refunds. If you withdraw one week or more before the course begins, a $200 cancellation fee will be charged and the rest of your payment will be refunded.