Do you want to be the best version of yourself? Join us at this 9 day immersion course to connect deeply with others, cultivate healthy habits, explore the root cause of addiction, make peace with your past, gain understanding and choice in your behaviour, thrive in the present, acknowledge your strengths, and create an inspired, fulfilling future.
Suitable for people in recovery, health practitioners, yoga teachers and anyone seeking positive change and guidance in developing a spiritual practice. The course includes a 4 month home practice program with online yoga videos and over 90 teaching clips from Dr. Gabor Maté, a 500 page manual and weekly group support. You will learn to:
Use Kundalini Yoga and meditation to rejuvenate body, mind and spirit
Utilize yogic techniques to decrease cravings
Restore the nervous system, brain, frontal lobe and adrenal glands with yoga and naturopathic therapies
Access your spiritual centre and learn to rely on your Higher Self
Develop neutrality and clear subconscious patterns
Manage your reactions to people and events
Enhance communication and relationship skills
Make a healthy shift in perspective and attitude
See the detailed course outline here.
You may also be interested in registering for Compassionate Inquiry with Dr. Gabor Maté, Nov 13-14 in Toronto as an accompaniment to this program. Highly recommended.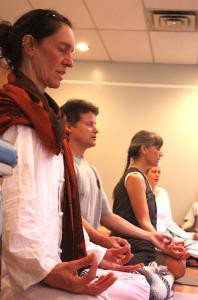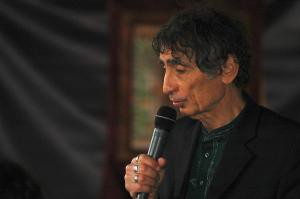 Location & Dates
Location:
The Fitness Loft, 99 Sudbury St.
Toronto, ON, Canada
See map: Google Maps
Dates:
Oct 24-Nov 1, 2016.
8:00 a.m. to 4:45 p.m. daily
Instructors
Founder, Lead Trainer, Naturopathic Doctor
Sat Dharam is a certified Kundalini Yoga teacher trainer and instructor, author, and naturopathic doctor practicing in Owen Sound, Ontario. She has studied Kundalini Yoga since 1976 and has facilitated teacher training programs in Toronto (ON), Canmore (AB), and Owen Sound. She developed the Beyond Addiction program, inspired by the teachings of Dr. Gabor Maté an other addiction and trauma experts. She has also developed … Continued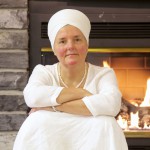 Fees & Registration
Register Online:
In order to register online for this course, you must:
Click the register button below to fill out the registration form
Go back to this page and click the Pay Online button to pay through Paypal
Register Online
First-time Participants ($1500):
Returning Participants ($750):
Certified Beyond Addiction Instructors or Trainers ($500):
Other Registration Methods:
If you would like to use another method to register for this course, there is a Fillable registration form that you can fill out on your computer and send to us..
Download: Beyond Addiction Registration Form – Fillable
Email: Please fill out the completed registration form and use the paypal button or send an etransfer to [email protected].
Phone: Please fill out the completed registration form and then call us at (519) 372-9212 with your credit card information.
Fax: Please complete the registration form and Fax your credit card information to (519) 372-2755.
Mail: Please complete and print the registration form and send it along with your credit card information, cheque, or money order (made out to Sat Dharam Kaur) to: Sat Dharam Kaur, 235 9th St E, Owen Sound, ON, Canada N4K 1N8.
Payment may be made by cheque, money order, VISA, MasterCard, or eTransfer.
Please call or email Sat Dharam Kaur [email protected] if you have further questions or concerns.
Cancellation Policy: There are a certain number of spots available for each program. Once the program has begun, there are no refunds. If you withdraw one week or more before the course begins, a $200 cancellation fee will be charged and the rest of your payment will be refunded.
Accommodation:
Billetting  
There will be limited options to be billetted with people in the community. If this interests you please email  Dharm Kaur (Ela Bielski) at [email protected] for more information and to explore possibilities.
Airbnb  
This option offers a number of reasonable options as there are many high-rise condos literally across the street from The Fitness Loft. Here are a couple of search examples:
https://www.airbnb.ca/s/99-Sudbury-St–toronto–ON?checkin=24-10-2016&checkout=05-11-2016&guests=2&ss_id=lwbi1h4s&s_tag=wT5NCdVf
https://www.airbnb.ca/s/Liberty-Village–toronto–ON?checkin=24-10-2016&checkout=05-11-2016&guests=2&ss_id=0rvvrfs6&s_tag=MMQFQMEH
You could also expand the search to Queen, Dundas or College Streets as far west as Roncesvalles and as far east as Spadina.
Note: Compassionate Inquiry (Nov. 3-4) will be held at the YMCA,  20 Grosvenor Street, in the Yonge and College area.
The Garden House B&B
https://www.bbcanada.com/13663.html
Edwardian manor in Parkdale, about a 20-minute walk from The Fitness Loft. Rates $80-$125 a night.
Dunn House B&B
https://www.bbcanada.com/dunnhouse
In Parkdale, about a 20-minute walk from The Fitness Loft. From $109 for two.
IndexG B&B
On Gladstone Ave., about 5 minutes walk from The Fitness Loft. Special rate for 7 nights-plus.
Elliott House B&B
https://www.bbcanada.com/11643.html
In Parkdale, about a 20-minute walk from The Fitness Loft.
The Gladstone Hotel
Boutique hotel five minutes walk from The Fitness Loft. Expensive, but there is a discount for groups of 6 or more:
http://www.gladstonehotel.com/spaces/save-group-discounts/   
Les Amis, A Vegetarian Bed & Breakfast
https://www.bbcanada.com/2199.html
Near Carlton station. A 2-minute walk from the Grosvenor Street YMCA, site of Compassionate Inquiry (Nov. 3-4).
Flipkey
https://www.flipkey.com/toronto-vacation-rentals/g155019/
Many options, but watch for hefty cleaning fees.
TripAdvisor.ca, Hotels.com, Expedia.ca
You can book standard hotels at these sites, and search for short-term rentals.
Planet Traveler
Eco-friendly hostel with dorms and private rooms on College St. near Kensington Market. Affordable. About a 40 minute walk. Close to Spadina streetcar.