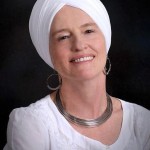 Siri Dharma has been teaching kundalini yoga since 1996 and was one of the
first trainers of Kundalini Yoga teachers in South Africa.  She has taught
yoga and meditation to addicts in drug rehab facilities for the last 18
years and currently teaches yoga at Eden Rehab in Johannesburg.  Siri Dharma
is a musician and plays kirtan in a band called the Dharma Sisters. She has
recorded three CDs of spiritual music and mantra, two CDs with African
choirs. When she is not teaching yoga, Siri Dharma is a qualified lawyer
with law degrees from both Wits University, Johannesburg and Stanford
University, USA. She has practiced as both a human rights lawyer and a
corporate lawyer and now trains and mentors young lawyers in one of
Johannesburg's biggest law firms. She is also an accredited mediator..