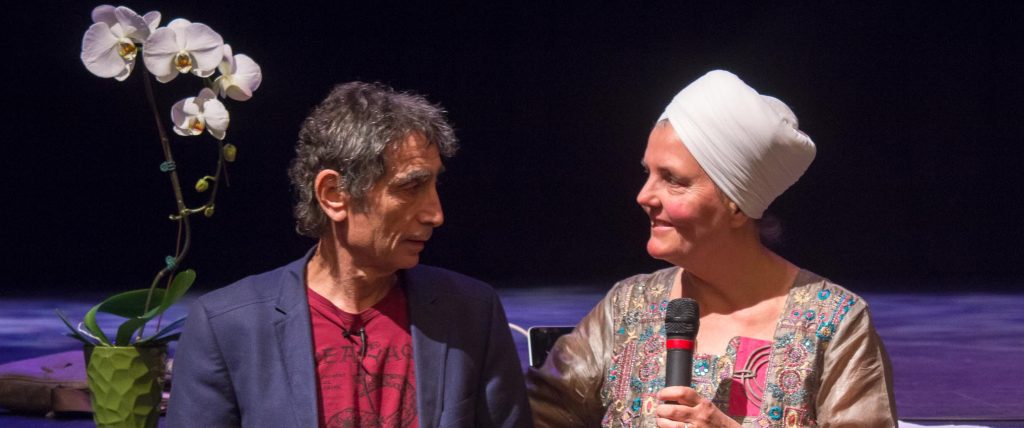 "I have worked for over 30 years in the mental health and addictions field. This is the most comprehensive course I have ever taken. It addresses the biological, social, psychological and spiritual aspects that addictions affect. It was transformative on both a personal and professional level." – MM
Do you want to be the best version of yourself? Join us in this 16 week program where you will be guided to connect deeply with yourself and others, cultivate healthy habits, explore the root cause of addiction, make peace with your past, gain understanding and choice in your behaviour, thrive in the present, acknowledge your strengths, and create an inspired, fulfilling future.
If you are unable to attend a Beyond Addiction program where you live, we have designed this online program for you.
The next group online program facilitated by Sat Dharam Kaur ND and other instructors begins the week of May 3, 2021 and continues for 16 weeks until Aug 20, 2021.
It is also possible for you to proceed through the online program at your own pace, without group facilitation.
The online program consists of 16 theme-based modules. The expectation is that you will take 7 days to progress through each module, thus gaining an overview of the program in 16 weeks. If you wish to do the program without weekly group facilitation, you can set your own schedule.
You will have access to the online course materials for 8 months after the start date, allowing you to use the materials for two 16 week periods. After this time the cost is $75 for each 4 month period to access the online resources.
Many people take the program several times – it can become a lifelong journey of self-discovery and self-refinement.
In each module there are:
written materials to read and absorb – the manual totals over 500 pages
yogic guidelines for recovery
Dr. Gabor Maté video clips; approximately 90 of them in the full program
a videotaped pranayam (breathing exercise), kriya (yoga set), and meditation which create a specific therapeutic effect to practice for each module, taught by Sat Dharam Kaur ND
a detoxification and rejuvenation guide for the colon, kidneys, liver, lymph, glandular system and to balance brain neurotransmitters
a weekly or 40 day home practice program
an online virtual twice weekly support group
self-assessment forms and research questions to track your progress
access to an optional (for an extra fee) weekly or monthly Beyond Addiction Coach, naturopathic doctor, psychotherapist, addictions counsellor, or certified Kundalini Yoga teacher for additional support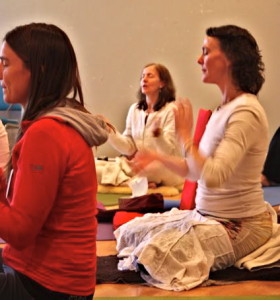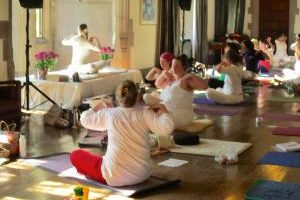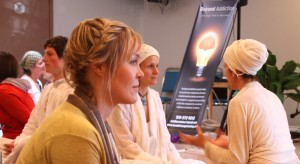 Schedule and Additional Information
Beyond Addiction Trainer
Days and Times for each Group (meets twice weekly)
Sat Dharam

[email protected]

Group 1:  Tues 8:15-9:30am ET, Fri 8:00-9:30am ET
Dharm Kaur

[email protected]

Group 1:  Wed 8:30-9:30am ET, Sat 8:30-9:30am ET
Sat Charan Simran

[email protected]

Group 1:  Tues 1:00-2:00pm ET, Thurs 1:00-2:00pm ET

Group 2:  Tues 10:00-11:00pm ET, Thurs 10:00-11:00pm ET

Basantdeep Kaur

[email protected]

Group 1:  Sun 8:00-9:00am ET, Wed 12:00-1:00pm ET

Group 2:  Mon 8:30-9:30am ET, Fri 10:30-11:30am ET

Nirmal Singh

[email protected]

Group 1:  Tues 12:00-1:00pm ET, Fri 12:00-1:00pm ET
Michelle Peddle

[email protected]

Group 1:  Mon 8:00-9:00am ET, Thurs 6:00-7:00pm ET
Priya Duggal

[email protected]

Group 1:  Mon 10:00-11:00am ET, Fri 10:00-11:00am ET
Soraya – Fateh Bir

[email protected]

Group 1:  Mon 9:00-10:00pm ET, Fri 9:00-10:00pm ET

You will meet together virtually twice weekly for 60-90 minutes each time, depending on the size of the group, using teleconferencing via Zoom. You'll need a high speed internet connection and headphones for Zoom.
You will be asked to practice Kundalini Yoga with an online video anytime before each meeting.

A live or recorded online webinar accompanies each module. The live recording will take place weekly with Sat Dharam Kaur on Tuesday mornings from 8:15-9:30 a.m. ET (Toronto time) with personal interaction following. If you miss the live webinar, you may watch the recording any time.

Sat Dharam's group meets Tuesdays from 8:15-9:30 a.m. ET and Fridays we will from 8:00-9:30 a.m. ET (Toronto time).

For other Facilitator's Groups and schedule, please refer to the table above, and contact the facilitator directly via email.
Lectures are recorded for later listening although discussions are not. We strongly encourage you to attend each session.
You will receive a pdf for each of the 16 weeks with the lecture material pertinent to that week's module, and will be able to interact through in an online classroom.
What course participants have said …
"You will never regret this course. Do it! And take it with as much compassion, consciousness and support as you can."  – GL
"BA gave me the opportunity to feel and experience the collective vulnerability of experienced trauma and the coping mechanisms of addiction. The program illuminated sound practices, ancient wisdom, contemporary thought and the most compassionate approach to addiction I've encountered."  – DS
"This program exceeded my expectations in terms of tools given and personal transformation.  I would recommend Beyond Addiction to anyone wishing to grow and live in deeper connection with themselves." – TC
"Beyond Addiction was the key to the door of awareness to my true self. The holistic tools of kundalini yoga, pranayam, mantra, nutrition and personal development work is revolutionary in its ability to heal people and propel them to an awakened life."  – SK
"The BA program is amazing – packed full of knowledge, techniques, wisdom and powerful kundalini yoga that supports the healing of the whole self, psychologically, physically and spiritually, along with self-discovery, nutrition, yoga, community and the wisdom of Sat Dharam Kaur and Gabor Maté.  Give yourself this gift."  – KM
"I want you to know that I am having the most magnificent experience in my life… I want to tell you all about it and the transformation I have made and the joy and hope I'm experiencing. Most important, I want to express my gratitude to you for being who you are, developing this program, working with me, and allowing me to find my way. It's working beautifully. Working daily has been amazing." – RR
"This course has made me feel alive again, strengthened my life force, as well as strengthening my mind. It has given me practical tools to help me live my life consciously, living in accordance with my Dharma." – JM
"This course gave me a sense of purpose, direction and light in my life. It gave me hope when I was hopeless and lifelong tools I can use to live by and continue growing to become a better person and to want to keep living. It has awakened the desire in me to live a pure, chemical-free life. The most valuable thing is knowing that Kundalini Yoga is out there and how powerful and life-changing it can be." – IM
Fees & Registration
Full Course (16 Modules) for first participants: $1300 + HST ($1469)
Returning participants: $650 + HST ($734.50)
Register Online:
If you are not registering for the time slot with Sat Dharam, please contact your facilitator directly to register with them. In order to register online with Sat Dharam as your facilitator (Tues and Fri), you must:
Click the register button below to fill out the registration form
Go back to this page and click the Pay Online button to pay through Paypal
Register Online
First-time Participants ($1300 + HST= $1469):
Returning Participants ($650 + HST= $734.50):
Other Registration Methods:
If you would like to use another method to register for this course, we have provided a fillable registration form below that you can fill out on your computer and send to us.
Download: Beyond Addiction Registration Form – Fillable
Email: Please fill out the completed registration form and use the paypal button or send an etransfer to [email protected].
Phone: Please fill out the completed registration form and then call us at (519) 372-9212 with your credit card information.
Fax: Please complete the registration form and Fax your credit card information to (519) 372-2755.
Mail: Please complete and print the registration form and send it along with your credit card information, cheque, or money order (made out to Sat Dharam Kaur) to: Sat Dharam Kaur, 235 9th St E, Owen Sound, ON, Canada N4K 1N8.
Payment may be made by cheque, money order, VISA, MasterCard, or eTransfer.
Please call or email Sat Dharam Kaur [email protected] if you have further questions or concerns.
Cancellation Policy: There are a certain number of spots available for each online program. Once the program has begun, there are no refunds. If you withdraw one week or more before the course begins, a $200 cancellation fee will be charged and the rest of your payment will be refunded.