"I have worked for over 30 years in the mental health and addictions field. This is the most comprehensive course I have ever taken. It addresses the biological, social, psychological and spiritual aspects that addictions affect. It was transformative on both a personal and professional level."
– MM
---
Is it time for you to accept, love and care for yourself, while opening up to what is possible?
If you've said yes, join us in this 16 week program, consisting of 16 theme-based modules, where you will be guided to:
Connect deeply with yourself and others

Cultivate healthy habits

Explore the root cause of addiction

Express your pain
Heal the wounds of trauma

Make peace with your past

Gain understanding and choice in your behaviour

Thrive in the present moment

Acknowledge your strengths, and create an inspired, fulfilling future
The expectation is that you will take 7 days to progress through each module, thus gaining an overview of the program in 16 weeks.
Many people take the program several times – it can become a lifelong journey of self-discovery and self-refinement.
If you are unable to attend a Beyond Addiction program where you live, we have designed this online program for you.
Created for:
People in recovery, with at least 40 days of continuous sobriety

Family members and loved ones impacted by addiction

Health practitioners, psychotherapists, addiction counselors, medical professionals

Yoga teachers

Anyone seeking positive change through spiritual practice, naturopathic principles, lifestyle shifts, and the healing that can occur in community

This program is also highly recommended for Beyond Addiction trainers to upgrade their skills
What you will learn:
How to use Kundalini Yoga and meditation to rejuvenate body, mind and spirit, and heal the wounds of trauma

Utilize yogic techniques to decrease cravings

Restore the nervous system, brain, frontal lobe and adrenal glands with yoga and naturopathic therapies

Access your spiritual centre and learn to rely on your Higher Self

Develop neutrality and clear subconscious patterns

Manage your reactions to people and events

Enhance communication and relationship skills

Make a healthy shift in perspective and attitude
Facilitated and Instructed by:
The next group online program, facilitated by Sat Dharam Kaur ND and Michelle Peddle, begins the week of June 6, 2023 and continues for 16 weeks until September 22, 2023.
It is also possible for you to proceed through the online program at your own pace, without group facilitation.
If you wish to do the program without weekly group facilitation, you can set your own schedule.
16-Week Online Program Includes:
You will have access to the online course materials for 8 months after the start date, allowing you to use the materials for two 16-week periods. After this time the cost is $75 for each 4 month period to access the online resources.
A home practice program with online yoga videos

Over 90 teaching clips from Dr. Gabor Maté

A 16 theme-based module with 500 pages of content

In each module there are:
Written materials to read and absorb – the manual totals over 500 pages

Yogic guidelines for recovery

Dr. Gabor Maté video clips; approximately 90 of them in the full program

A videotaped pranayam (breathing exercise), kriya (yoga set), and meditation which create a specific therapeutic effect to practice for each module, taught by Sat Dharam Kaur ND

A detoxification and rejuvenation guide for the colon, kidneys, liver, lymph, glandular system and to balance brain neurotransmitters

A weekly or 40 day home practice program

An online virtual twice weekly support group

Self-assessment forms and research questions to track your progress

Access to an optional (for an extra fee) weekly or monthly Beyond Addiction Coach, naturopathic doctor, psychotherapist, addictions counsellor, or certified Kundalini Yoga teacher for additional support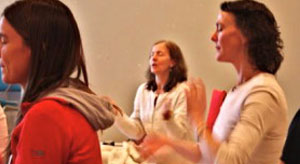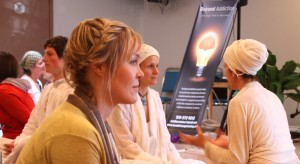 Schedule:
Facilitators: Sat Dharam Kaur [email protected]  and Michelle Peddle
Dates: June 6 – September 22, 2023
Time: Tuesday, 8:15-9:30am EST, Fri 8-9:30am EST (Toronto Time)
Convert to your timezone here.
Program Process: 
You will meet together virtually twice weekly for 60-90 minutes each time, depending on the size of the group, using teleconferencing via Zoom

You'll need a high speed internet connection and headphones for Zoom

You will be asked to practice Kundalini Yoga with an online video anytime before each meeting

A live or recorded online webinar accompanies each module

The live recording will take place weekly with Sat Dharam Kaur on Tuesday mornings from 8:15-9:30 a.m. ET (Toronto time) with personal interaction following

If you miss the live webinar, you may watch the recording any time

Lectures are recorded for later listening although discussions are not. We strongly encourage you to attend each session

You will receive a pdf for each of the 16 weeks with the lecture material pertinent to that week's module, and will be able to interact through in an online classroom
Program Instructors:
Founder, Lead Trainer, Naturopathic Doctor
Sat Dharam is a certified Kundalini Yoga teacher trainer and instructor, author, and naturopathic doctor practicing in Owen Sound, Ontario. She has studied Kundalini Yoga since 1976 and has facilitated teacher training programs in Toronto (ON), Canmore (AB), and Owen Sound. She developed the Beyond Addiction program, inspired by the teachings of Dr. Gabor Maté an other addiction and trauma experts. She has also developed … Continued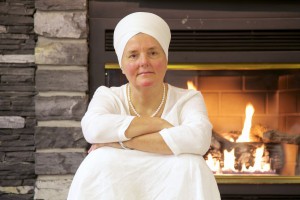 BA Trainer, Compassionate Inquiry Practitioner, Psychotherapist, Kundalini Yoga Teacher and Therapist
Michelle Peddle is a Certified Compassionate Inquiry Practitioner, Facilitator and Registered Psychotherapist. She is also an IAYT Registered Yoga Therapist, KRI certified Kundalini Yoga Teacher, and E-RYT 500 Yoga Teacher with the Yoga Alliance. She witnessed first-hand the powerful impact of blending Eastern spiritual practices with Western psychology in her early 20's. She utilizes these diverse practices, philosophies, disciplines, and theoretical perspectives to provide her … Continued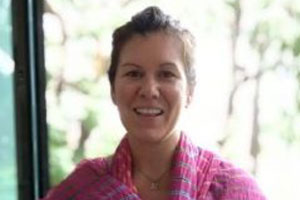 Learn About Beyond Addiction through a short video:

---
Testimonials:
"You will never regret this course. Do it! And take it with as much compassion, consciousness and support as you can." 
– GL
"BA gave me the opportunity to feel and experience the collective vulnerability of experienced trauma and the coping mechanisms of addiction. The program illuminated sound practices, ancient wisdom, contemporary thought and the most compassionate approach to addiction I've encountered." 
– DS
"This program exceeded my expectations in terms of tools given and personal transformation.  I would recommend Beyond Addiction to anyone wishing to grow and live in deeper connection with themselves."
– TC
---
Start Dates:
There are 2 cohort start dates per year, beginning in January and June.
The June 2023 training will run from June 6 – September 22.
Times: Tuesday, 8:15-9:30am EST, Fri 8-9:30am EST (Toronto Time)
Convert to your timezone here.
---
Fees and Registration Methods
If you are not registering for the time slot with Sat Dharam, please contact your facilitator directly to register with them.
In order to register online with Sat Dharam as your facilitator (Tuesday and Friday), you must:
Click the register button below to fill out the registration form and pay online.
Online Process

:

The prices mentioned are in Canadian dollars (CAD). Convert to your currency here.
Other Registration Methods

:

We have provided a fillable registration form below that you can fill out on your computer and send to us via email, phone, fax or mail.

Download: Beyond Addiction Registration Form – Fillable

Email:
Please fill out the completed registration form and use the paypal button or send an etransfer to [email protected].

Phone:
Please fill out the completed registration form and then call us at (519) 372-9212 with your credit card information.

Fax:
Please complete the registration form and Fax your credit card information to (519) 372-2755.

Mail:
Please complete and print the registration form and send it along with your credit card information, cheque, or money order (made out to Sat Dharam Kaur) to: Sat Dharam Kaur, 235 9th St E, Owen Sound, ON, Canada N4K 1N8.

Payment Modes:
Cheque

Money order

VISA

MasterCard

eTransfer
Please call or email Sat Dharam Kaur [email protected] if you have further questions or concerns.
---
Cancellation Policy:
There are a certain number of spots available for each online program. Once the program has begun, there are no refunds. If you withdraw one week or more before the course begins, a $200 CAD cancellation fee will be charged and the rest of your payment will be refunded.
---
See other Beyond Addiction programs 
Subscribe to our mailing list to be notified of other Beyond Addiction Programs:
Beyond Addiction Mailing List Sign Up
---