Join us in this 16 week program to cultivate healthy habits, explore the root cause of addiction, and gain understanding and choice in your behaviour. Suitable for people in recovery from any addiction and those seeking positive change, guidance and support. The course includes a weekly 1 1/2 hour Kundalini Yoga class at Helix Healthcare Group, weekly group discussion, plus a home practice program with online yoga videos and teaching clips from Dr. Gabor Maté.
You will learn to:
Use Kundalini Yoga and meditation to rejuvenate body, mind and spirit
Utilize yogic techniques to decrease cravings
Restore the nervous system, brain, frontal lobe and adrenal glands with yoga and naturopathic therapies
Access your spiritual centre and learn to rely on your Higher Self
Develop neutrality and clear subconscious patterns
Manage your reactions to people and events
Enhance communication and relationship skills
Make a healthy shift in perspective and attitude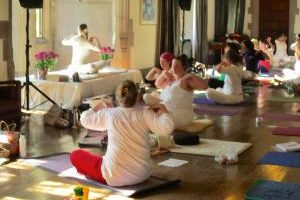 Location & Dates
Location:
Helix Healthcare Group
102 Yorkville Ave.
Toronto, ON M5R 1B9
Canada
Fax: Canada
Dates:
Wednesdays, 9:00 a.m. – 10:30 a.m. for the Kundalini Yoga class
Fridays, 9:00 a.m. – 10:00 a.m. for the group support sessions
Instructors
Instructor, Professional Trainer
Nirmal Singh is a lead Kundalini Yoga teacher trainer, and mentors with Sat Dharam Kaur in the "Beyond Addiction: The Yogic Path to Recovery" training program. Nirmal has co-facilitated this program in Toronto, Owen Sound, Guelph and Peru, and teaches "Beyond Addiction Community Support Program" classes and workshops in Toronto. Nirmal owns and operates The Wellness Path which produces Kundalini Yoga related programs including sacred … Continued
Instructor, Associate Trainer
Basantdeep is an Addiction Counselor, Certified Compassionate Inquiry Practitioner, Certified KRI Kundalini and Classical Yoga instructor, Hormone Yoga Therapist, Rei-Ki Practitioner, Beyond Addiction Instructor/Trainer and Healthy Breast Educator. Basantdeep completed the Beyond Addiction training with Sat Dharam Kaur in 2008 and has been using it to help individuals conquer addictive behaviours. She teaches aspects of the program the program at Vitanova Foundation Treatment Center in … Continued