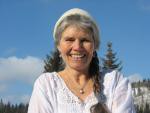 Susan O'Shea (Pavan Pal Kaur) is a certified Kundalini and Hatha yoga teacher and a Registered Massage Therapist. Pavan Pal teaches yoga and the Beyond Addiction program in her community of Bragg Creek, Alberta and in another rural town close by. She has operated the Hilltop Wellness Centre for 27 years, which offers individuals alternative forms of Bodywork, body focused therapy, yoga and ceremonies for our times. Pavan Pal has been honoured as a Hucoule (medicine person) and acknowledges the balance between healing ourselves and respecting the Earth.
Life takes courage to see our imperfection, and compassion to be gentle with ourselves. It also takes time to connect to our authenticity and to see the beauty in our vulnerability.
As Yogi Bhajan says, "we are spiritual beings having a physical experience". Kundalini yoga is one of the medicines for our times.