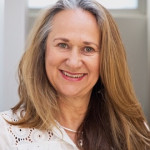 Karin Ritchie (Balwant Kaur) is a full-time Trauma Healing Practitioner (www.traumahealing.org). Trauma Healing is a subtle yet profound modality that focuses on the science of the nervous system and the unlocking and release of trauma held in the body, mind and spirit. Karin recognized the link between trauma and addiction, which caused her to specialize in working with people with addictions. Her work draws from her personal life experiences, which have resulted in the healing and transformation of a traumatic life to a full and graceful one.

Karin is a practicing Kundalini yoga teacher, having completed her teacher training in India in 2003. She is also the founder, director and advisor to the industrial supply company which she established in 1982 (www.hdind-group.com). She is a mother to three children.

As she continues her journey of self-discovery with gratitude, curiosity and compassion, she finds fulfillment in sharing her skills, experience and wisdom to bring about change in others. Her life is supported by yoga and meditation, traveling adventures, ongoing study and the awe-inspiring gift of witnessing and celebrating the miracles of healing.
Contact: karinritchie3@gmail.com