¿Quieres ser la mejor versión de ti mismo? Acompáñanos en este curso de inmersión de 9 días para conectarte profundamente con los demás, cultivar hábitos saludables, explorar la causa raíz de la adicción, hacer las paces con tu pasado, comprender y elegir tus comportamientos, prosperar en el presente, reconocer tus fortalezas y crear un futuro inspirado y satisfactorio.
Este programa es adecuado para personas en recuperación, profesionales de la salud, psicólogos y terapeutas, profesores de yoga y cualquier persona que busque un cambio positivo y orientación en el desarrollo de una práctica espiritual. El curso incluye un programa de práctica en casa de 4 meses con videos de yoga en línea y más de 90 videos de conferencias del Dr. Gabor Maté, un manual de 500 páginas y una reunión semanal grupal con el acompañamiento de un facilitador especializado de Beyond Addiction.
El programa se enseña totalmente en español. El manual está traducido y los videos tienen subtítulos en español.
En este programa aprenderás a:
Usar el Kundalini Yoga y la meditación para rejuvenecer el cuerpo, mente y espíritu.
Utilizar técnicas 

yóguicas para disminuir la ansiedad y antojos.

Restaurar el sistema nervioso, el cerebro, el lóbulo frontal y las glándulas suprarrenales con yoga y terapias naturopáticas.

Acceder a tu centro espiritual y aprender a 

confiar en tu Ser Superior

Desarrollar neutralidad y

patrones claros de subconsciencia

Manejar tus reacciones 

a las personas y a los eventos

Mejorar tus habilidades de comunicación y de relación.
Hacer un cambio 

saludable de perspectiva y actitud
Este curso será impartido por Sat Dharam Kaur ND, Sanjog Kaur y entrenadores invitados asociados.
English:
Are you ready to be the best version of yourself? Join us on this 9-day immersion course to connect deeply with others, cultivate healthy habits, explore the root cause of your addiction, make peace with your past, understand and choose your behaviors, thrive in the present, recognize your strengths, and create an inspired and fulfilling future.
This program is suitable for people in recovery, health professionals, psychologists and therapists, yoga teachers, and anyone seeking positive change and guidance in the development of their spiritual practice. The course includes a 4-month home practice program with online yoga videos and more than 90 videos of Dr. Gabor Maté's lectures, a 500-page manual, and a weekly group meeting accompanied by a specialized Beyond Addiction facilitator.
The program will be taught and translated into English and Spanish.
In this program you will learn to:
Use Kundalini Yoga and meditation to rejuvenate the body, mind and spirit.

Use yogic techniques to decrease anxiety and cravings.

Restore the nervous system, brain, frontal lobe and adrenal glands with yoga and naturopathic therapies.

Access your spiritual center and learn to trust your Higher Self.

Develop neutrality and clear patterns of subconsciousness

Manage your reactions to people and events

Improve your communication and relationship skills.

Make a healthy change in perspective and attitude.
This course will be taught by Sat Dharam Kaur ND, Sanjog Kaur and associated guest instructors.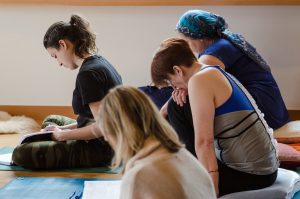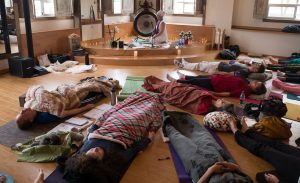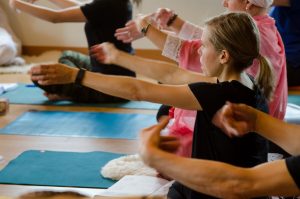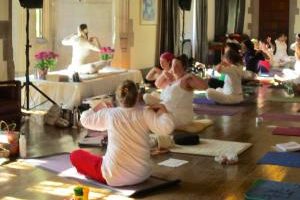 Location & Dates
Ubicación: Madrid
Asociación Candra
Dirección: C/ Nicolás Morales nº 17, 3ª Planta
Metros: Urgel / Oporto
Fechas: 13-21 de septiembre de 2019
Horarios:
Viernes 13 de septiembre de 18:00 a 21:00
Los demás días se mantiene el horario de 9:00 a.m. – 17:30 p.m cada día
Address:
Dates: September 13-21, 2019
Time: 9:00 a.m. – 6:00 p.m. every day
Instructors
Founder, Lead Trainer, Naturopathic Doctor
Sat Dharam is a certified Kundalini Yoga teacher trainer and instructor, author, and naturopathic doctor practicing in Owen Sound, Ontario. She has studied Kundalini Yoga with Yogi Bhajan since 1976 and has facilitated teacher training programs in Toronto (ON), Canmore (AB), and New Mexico. She developed the Beyond Addiction program with Jiwan Joti Kaur PhD, inspired by the teachings of Yogi Bhajan and Dr. Gabor … Continued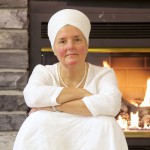 Instructor, Professional Trainer, Kundalini Yoga Teacher
Sanjog is a Beyond Addiction instructor and trainer from Ecuador who currently lives in Spain. She is dedicated to expanding the Beyond Addiction program in Spain, Ecuador and South America, working with a team of Spanish-speaking coaches. Her area of ​​specialization is supporting women with eating disorders, using Kundalini Yoga, the Beyond Addiction program and other holistic tools. Sanjog es una instructora y capacitadora de Beyond … Continued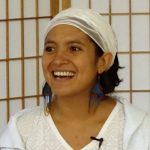 Fees & Registration
INVERSION Y REGISTRO
El evento no incluye alojamiento, transporte y alimentación.
Se puede pedir un menú vegano opcional por un valor adicional de 15 euros por día.
Inscripción y Pago anticipado antes del 6 de agosto (Early bird): 1100 euros
Inscripción y Pago anticipado después el 6 de agosto : 900 euros
Plan de Pagos
Si necesitas un plan de pago, por favor escribe un correo a: annapurnasanacion@gmail.com
FEES AND REGISTRATION
The event does not include accommodation, transportation and food.
An optional vegan menu can be ordered for an additional value of 15 euros per day.
Registration and advance payment until August 6 (Early Bird): 900 euros
Registration and advance payment after August 6: 1100 euros

Payment Plan
If you need a payment plan, please write to: annapurnasanacion@gmail.com
Registro Online:
Register Online
Para inscribirte en línea en este curso, debes:
Hacer clic en el botón de registro que aparece a continuación para rellenar el formulario de registro
Una vez completado el formulario, escribe un correo a annapurnasanacion@gmail.com para completar tu pago
Política de cancelación: Hay un cierto número de lugares disponibles para cada programa en línea. Una vez que el programa ha comenzado, no hay reembolsos.
Después del 1 de mayo puedes reservar tu cupo en el programa con un depósito de 300 €. Este depósito será tomado en cuenta como parte del pago completo del programa. En caso de cancelación, este monto no será devuelto.
Evaluación Previa: Después de registrarse, cada participante será evaluado en su propia preparación para el programa, basado en su formulario de admisión y una entrevista con el Profesional Principal de Salud Mental del programa designado. El Entrenador Principal y el Profesional de Salud Mental Principal determinarán la aptitud de cada candidato para el programa. La aceptación de la cuota de inscripción no confirma la asistencia al programa. Si el solicitante no es apto en este momento, la cuota de inscripción será reembolsada en su totalidad y se hará todo lo posible para ayudar al solicitante a encontrar un programa o apoyo alternativo adecuado.
REGISTRATION:
To register online for this course, you must:
Click on the registration button below to complete the registration form
Register Online
Once you have completed the form, write an email to annapurnasanacion@gmail.com to complete your payment.
Cancellation Policy: There are a number of places available for each program online. Once the program has begun, there are no refunds.
After May 1st you can reserve your place in the program with a deposit of 300 €. This deposit will be taken into account as part of the full payment of the program. In case of cancellation, this amount will not be refunded.
Prior Evaluation: After registration, each participant will be evaluated on their own preparation for the program, based on their admission form and an interview with the Principal Mental Health Professional of the designated program. The Principal Trainer and the Principal Mental Health Professional will determine each candidate's suitability for the program. Acceptance of the enrolment fee does not confirm attendance at the program. If the applicant is not eligible at this time, the enrolment fee will be refunded in full and every effort will be made to assist the applicant in finding a suitable alternative program or support.